PAGE TITLE SECTION - PART 2
Affordable, Professionally-managed House Painters and Craftspeople Painting Blue Ash Homes
Look no further than 365 Renovations professional Blue Ash painters for interior and exterior painting, cabinet refinishing, and kitchen makeovers. We offer fair pricing, over 30 years of experience in the coating industry, smooth project management, and consistent communication.
Best of all, we're not done with the job until you're satisfied.
Our painters' work shines in Blue Ash neighborhoods, such as Cooper Rd/Plainfield Rd, City Center, and Kenridge/Hazelwood.
Dependable, courteous, quality work.
Susan
Schedule a Free Estimate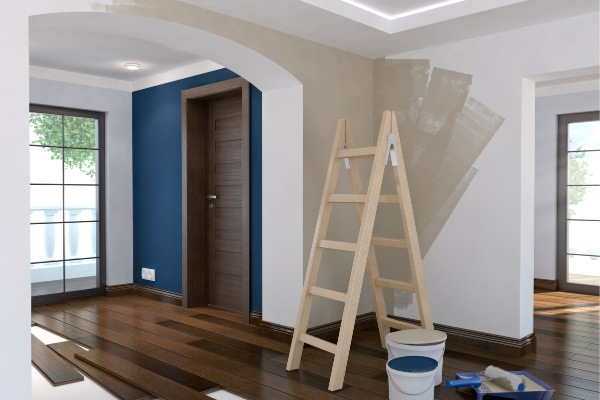 House Painters FAQs Specifically for Blue Ash Homeowners
Over 50% of Blue Ash homes are three bedrooms and aged between 1970 - 1999. The median home value is $263,358. This West Chester suburb makes it a priority to enforce property standards so that all residents can benefit from their investment in safe, well-maintained, and aesthetically-pleasing houses and commercial buildings.
The city of Blue Ash also provides a Property Maintenance Checklist for your reference.
What can we do with leftover paint from years past?
Blue Ash Paint Recycling Find the closest recycling drop-off location at Hamilton County. In addition, Matthew 25: Ministries' Rainbow Paint Re-blending Program accepts donations for unwanted, unused, or mis-tinted latex paint. And you can participate in Neighborhood Clean-Up Day (Blue Ash residents only), which is usually scheduled every year on the first Saturday in May from 9:00 AM to 3:00 PM.
---
Will you leave us the leftover paint from our project?
Yes. After our painters complete the job, they will leave behind paint for future touch-ups if needed. Please store it in a cool, dry place inside the house, not in the garage.
---
What preparation is done before you begin painting?
For exterior painting, we power wash your home with Simple Green and Oxygenated bleach, caulk up all open seams, scrape, and prime areas with an oil-based primer. Landscaping and other property are protected with drops or plastic. Exterior Painting 20-step Process For interior painting, we ask you to move smaller items out of the way, but we move the heavy furniture. We cover all items in the work area and make minor repairs to the drywall, including cracks and nail pops. Interior Painting 20-step Process You'll know exactly what to expect from our painters. We will address any other questions with you before the start of the job.
---
How are paint products selected?
Our top recommendation is Sherwin Williams, in most cases. With over 30 years in the coating industry, our expertise in selecting the correct paint for each item we are painting ensures the paint job will last as long as possible. There is a lot of marketing hype by the paint manufacturers to try to convince customers to buy the most expensive products to increase their profit margins. Generally, buying your paint on sale will not save you money - upfront or over the long-term. We buy over $60,000 worth of paint each year - our prices are better than the sales. Plus, our in-depth knowledge of coating plays a vital role in a beautiful application, color, and durability.
---
Why Choose 365 Renovations to Paint Your Blue Ash Home?
When it's time to get your Blue Ash house painted, reasonable pricing is always a priority. Our painting estimates are very detailed, listing all items required for the scope of the project. We never have to approach a customer and ask for additional money because we did not correctly estimate the project.
More reasons to put your trust in our painting company include:
Peace of mind with Liability Insurance, Workers Compensation, and background checks on all our painters and craftspeople. If an accident happens, we've got you covered.
We provide a 1-year warranty on cabinet refinishing and a 2-year warranty on all exterior and interior painting.
Thorough preparation and light carpentry repair of the exterior siding as well as interior walls, ceilings, and cabinets.
Environmentally-friendly products and processes.
An experienced Crew Chief is on the job throughout your project. The owner, Jim Dorff, is there at the start of the project and does the final walk-through with you.
We clean up every day, and do a thorough cleanup and haul away upon completion.
We're not done until you say we're done.
From the estimate to set up to finish it was the best experience. Jim was honest and detailed the process giving my wife and I a step by step expectation. The workers were incredibly nice and respectful and the set up to prevent dust and dirt outside of the area they were working look like a hazmat zone and it worked. The finished product was the best. We had our cabinets painted and they looked like factory finish when done. Totally blew me away. I will use again and in fact am considering new kitchen counters right now with 365.

Great experience!
Rick
Related Links:
Our Service Area
Customer Reviews
Get a free detailed estimate to learn about the exceptional customer service, professionalism, and affordability you'll receive from our Blue Ash painters.