PAGE TITLE SECTION - PART 2
Hamilton, OH House Painters
Is It Time to Paint Your Hamilton OH Home?
Depending on the paint's quality and the local climate, exterior paint will last between 5-10 years. Interior paint has the same lifespan. Even if your home is one of the 9.0% of Hamilton, OH houses built after 2000, it is still a good idea to paint the exterior or interior of your home.
Repainting not only structurally protects your home and extends its lifespan, but also increases the resale value of your property. A professional painting job from 365 Renovations does wonders for your home's curb appeal.
Schedule a Free Estimate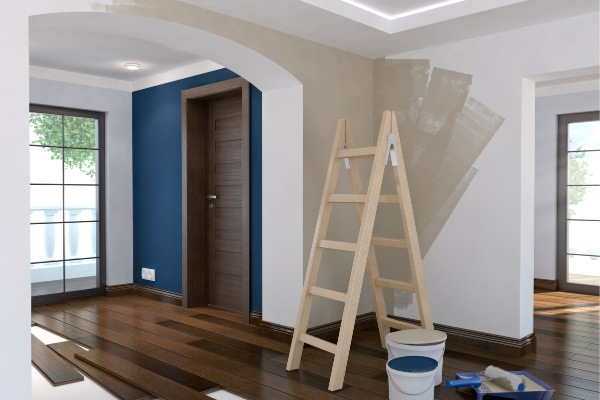 Hamilton House Painters FAQs
What Can I Do with Leftover Paint from Years Past?
Matthew 25: Ministries' Rainbow Paint Re-blending Program accepts leftover paint donations for re-blending for repainting not-for-profit public facilities such as schools, public facilities, and low-income individuals in the U. S and worldwide.
---
What Preparation Do You Carry Out Out Before Painting?
For exterior painting, we power wash your home with Simple Green and Oxygenated bleach, caulk up all open seams, scrape and prime areas with an oil-based primer. We protect landscaping and other property with drops or plastic. We use an Exterior 20 Step Process. For Interior Painting, we ask you to move smaller items out of the way, but we move the heavy furniture. 365 Renovations cover all items in the work area and make minor repairs to the drywall, including cracks and nail pops. Read our 20 Step Interior Painting Process, and you'll know what to expect from our painters. We will address questions with you before the start of the job.
---
Do You Provide Help with Paint Color Selection?
Yes. When you sign a contract with us, you can request a free 1-hour paint color consultation with our color specialist. We also provide color-matching.
---
How Are Paint Products Selected?
Our top recommendation is Sherwin Williams, in most cases. With over 30 years in the coating industry, our expertise in selecting the correct paint for each item paint ensures the finish will last, if possible. There is a lot of marketing hype, from paint manufacturers, to convince customers to buy the most expensive products to increase their profit margins. Buying your paint on sale will not save your money - upfront or over the long-term. We purchase over $60,000 worth of paint each year - our prices are better than the sales. Plus, our in-depth knowledge of coating plays a vital role in a beautiful application, color, and durability.
Good Reasons To Choose 365 Renovations For Your Next Painting Job, Cabinet Refinishing Or Kitchen Makeover
When it's time to get your Hamilton house painted, reasonable pricing is always a priority. Our painting estimates are very detailed, listing all items required for the project. We never have to approach a customer and ask for additional money because we did not correctly estimate the project.
More reasons to put your trust in 365 Renovations include:
Peace of mind with Liability Insurance, Workers' Compensation, and background checks on all our painters and craftspeople. If an accident happens, we've got you covered.
We provide a 1-year warranty on cabinet refinishing and a 2-year warranty on all exterior and interior painting.
Thorough preparation and repair of the exterior siding as well as interior walls, ceilings, and cabinets.
Environmentally-friendly products and processes.
An experienced Crew Chief is on the job throughout your project. The owner, Jim Dorff, is there at the start of the project and does the final walk-through with you.
We clean up every day, and do a thorough cleanup and haul away upon completion.
Contact us now to schedule a free estimate!