PAGE TITLE SECTION - PART 2
Which Material is Best for Your New Kitchen Countertops?
When homeowners contact 365 Renovations for a kitchen makeover, they often request new kitchen countertops as part of the project. We're happy to help you choose the kitchen countertop material that best suits your needs, style, and remodeling budget.
Quartz, Quartzite, Granite or Porcelain?
The most popular materials for kitchen countertops look beautiful, are durable, and easy to maintain. In fact, quartz, quartzite, granite, and porcelain are the only materials we recommend for a new kitchen makeover project.
Quartz
Quartz is one of the hardest minerals on Earth (ranking 7 on the Mohs scale) which makes it a reliable and durable material for kitchen countertops. Quartz countertops are sometimes referred to as 'manufactured' but quartz is, in fact, a natural stone.
The countertops are produced by combining ground-up quartz stones with a binder and other natural stone materials to create a wide variety of colors, textures and patterns. This mixture is poured into a mold, baked hard, and then polished to a high gloss. The amount of natural quartz in a slab depends on the quartz manufacturer.
If you're looking for a bright, white countertop, quartz is an excellent choice. Quartz offers very consistent color patterns, with little deviation from one section of the countertop to the next, no matter what color you choose.
Granite
The granite used for kitchen countertops is a naturally-occurring stone taken in large blocks from quarries. These blocks of granite are cut and polished into slabs for use as countertop material.
It comes in a wide variety of unique colors and patterns, resulting from different minerals that naturally occur in the stone. Granite appeals to people who want to bring the natural beauty of stone into their homes.
No two pieces alike so it can be a fun experience to pick out the exact pieces we will use to make your one-of-a-kind granite countertops.
Porcelain
Porcelain is a vitrified pottery material that comes in colors from opaque to nearly translucent. It's made from heating a mix of powdered China stone and white China clay, also known as kaolin, at about 1450°C.
The high temperature causes the China stone to harden into a dense, highly durable material. Impurities such as silica, mineral oxides, and feldspars naturally exist in the clay, and rather than detracting from the porcelain's quality, they add to its strength and coloration.
Porcelain is fast becoming a popular choice in kitchens. Stronger than granite and almost as hard as quartz, porcelain is chip-resistant and non-porous, which makes it virtually maintenance free.
Porcelain comes in styles that look like marble. However, for kitchen countertops, it's considered superior to marble in durability and price, with none of the maintenance issues required with marble countertops. Porcelain also comes in bright whites for trendy kitchens!
Quartzite
The name sounds similar, but quartzite is not quartz. However, it is a natural material mined from quarries. It can be found in many colors and textures including green, pink, grey, reddish-brown, and blue. The stone has a silky feel and can be cut into both slabs and tiles.
Quartzite's most appealing feature is its marble-like appearance. It comes in unique, interesting designs and a variety of colors. It's a wonderful option if you love the look but don't want the expense or high maintenance of marble.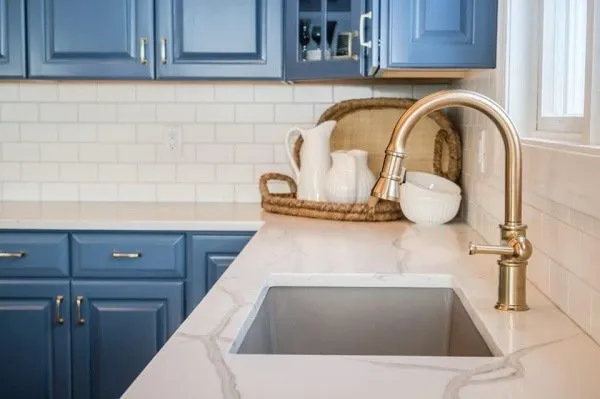 The Pros and Cons of Kitchen Countertop Materials
With so many options to choose from, deciding which is best for your kitchen can be a challenge. At 365 Renovations, we're here to answer your questions and help you make this decision. Since all the materials we recommend are strong, durable and nonporous, the choice often comes down to which has the look or colors you want that fits your renovation budget.
Countertop Colors
Quartz is manufactured in consistent color patterns, with nearly no deviation between one section of the countertop and another. It also is available in the bright white colors that are popular these days.
Granite comes in a wide range of rich, earthy colors like browns, grays, reds, greens and even black. You won't find a pure white countertop slab in granite. Much of it's beauty derives from the minerals that formed the rock, giving each piece it's own unique color and pattern.
Porcelain can be manufactured in any color or pattern. The most popular porcelain countertop is the marble look which comes in a variety of shades. Porcelain also comes in geometric or other styles.
Quartzite most often comes in white to gray colors. Pink or red hues result from iron oxide found in the stone. Yellow, green, blue, and orange quartzite results from the presence of other minerals.
Countertop Durability
Quartz and Granite are very hard materials, but they can chip or crack if hit by items like heavy pans or glass bowls. Once damaged, it is difficult but not impossible to repair. A good fabricator can try to fill the chips or cracks so they're less noticeable.
Porcelain also chips, but it's much harder to do damage. Porcelain's color is on its surface. It's the white or gray inside color you'll notice when it's chipped.
Quartzite is harder than both granite and quartz. It has a high resistance to acids that can cause etching and is UV resistant so natural light won't darken or fade it.
Countertop Patterns
Quartz countertop manufacturers control the color palette and texture, thereby producing consistency.
Granite countertops have the unique swirls and patterns that many homeowners love. But you won't be able to match those cool swirls in multiple sheets of granite installed in your kitchen.
Porcelain is manufactured with an endless variety of patterns and textures.
Quartzite, regardless of the color, always has streaking caused by varying degrees of pressure in its formation and the random presence of iron oxide or other minerals.
Which are Heat Resistant Kitchen Countertops?
Do not place hot items on quartz countertops. The resins that bind the quartz material together can become discolored or damaged.
In theory, you can place hot pans and dishes directly on your granite countertops without worry of damage. However, these are natural stone products, and you should protect them from extreme heat and cold as much as possible.
Porcelain and quartzite countertops are extremely durable and can handle hot items placed directly on their surface without concern of damage.
Can I Use my Countertop as a Cutting Board?
NEVER cut directly on your porcelain, quartz, or granite countertops.
Quartz and granite are very dense and tough. It's hard to scratch them, but it does happen.
Porcelain is scratched with ceramic knives easily so these should never be used directly on your countertop.
Quartzite is susceptible to damage from sharp object, like knives. Use a cutting board.
Kitchen Countertop Maintenance
Both quartz and granite are durable, but products like red wine and olive oil can stain them. Clean up spills promptly.
Quartz (a non-porous material) and granite (made from a mixture of porous and non-porous stone) should be resealed every 10 years or so. But granite may last longer between seals due to the high-quality product our fabricator uses.
Porcelain is a non-porous material. You'll never need to reseal it.
Quartzite is a porous material. We recommend sealing it every 5 - 10 years. If not properly sealed, spills can seep in and lead to stains and bacterial growth unless promptly cleaned.
Countertop Seams
Seams will be visible in any quartzite, porcelain, granite, or quartz product. Our fabricator plans for this by installing seams in less conspicuous places.
People often say that seams appear less noticeable on granite countertops. But that's not because the seams are smaller or less visible; it's because there is often more "movement" happening in the countertop pattern that distracts the eye away from the seam.
Most porcelain countertop patterns are designed to make seams less visible or to "break" at natural points along the material.
Price
At the base level, granite countertops are the least expensive of these products. This is because it is a time-consuming process to make quartz and porcelain.
As you start to move up to fancier, rarer or more patterned granite, you can quickly exceed the price of even the most expensive quartz.
Porcelain also comes in a range of prices depending on the complexity of the pattern, but is generally more expensive than quartz and granite due to the cost of fabrication. It is much harder to fabricate and the machines have to run slower in order to get perfect edges and seams.
Quartzite is generally more expensive than granite.
Remember, quartz and porcelain are manufactured countertop materials, so they are never rare. On the other hand, some granite and quartzite patterns come from only one place on Earth making them rare.
Overall Comparison
No matter what your style, the best way to choose a kitchen countertops is to start by looking around for kitchens you like. Make note of the colors and materials that appeal to you. Have this available to share with the 365 Renovations team.
Next, consider your cooking habits. For example, choosing quartz for its extreme durability and minimal maintenance is a great decision in a heavy-use kitchen.
With this information, the staff at 365 Renovations will guide you to products in your style and budget. Before you know it, you will be enjoying the kitchen you have always dreamed of cooking in.
Call today for a free estimate.
Schedule a Free Estimate
---
Service Area
Located in West Chester Township, our painters also serve homeowners and businesses in Amberley Village, Anderson, Avondale, Blue Ash, Cincinnati, Cleves, Clifton, Colerain, Delhi, Downtown Cincinnati, East Walnut Hills, Fairfield, Finneytown, Forest Park, Hamilton, Harrison, Hyde Park, Indian Hill, Kenwood, Lebanon, Liberty Twp, Loveland, Madeira, Maineville, Mariemont, Mason, Milford, Montgomery, Mt. Adams, Mt. Healthy, Mt. Lookout, North Avondale, Ross, Springboro, Springdale, Symmes Twp, West Chester Township, and Wyoming.