PAGE TITLE SECTION - PART 2
You'll Love Our Painters for Interiors, Exteriors, and Makeovers
365 Renovations painters are ready to give your Loveland home some TLC. It's time to update and refresh the inside or outside with a healthy dose of maintenance, stylish color, and a durable protective coating.
Enjoy an exceptional painting contractor experience by choosing from our professional services including exterior painting, interior painting, cabinet refinishing, or our cost-effective, transformational kitchen makeover.
Our team of painters are near you in Loveland zip codes 45111 and 45140, including the neighborhoods of Weber Rd/Smith Rd, Clearfield Ct/Pleasantview Dr, Loveland Park, and Arrowhead Trl/Dunn St.
"Hi Jim. Five months later, we are still in love with our cabinets! Even our realtor has asked for your card 🙂 Thanks again for a stellar job!"
-Heather, Loveland, OH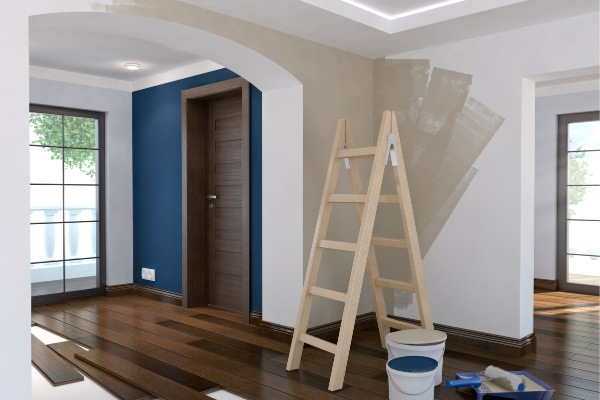 Loveland House Painters FAQs
At what temperatures can you paint the outside or inside of my home?
Exterior temperatures must be at or above 45 degrees on a regular basis to keep the underlying press paint from freezing. We like to keep your home around 70 to 72 degrees for interior painting.
---
Do you paint aluminum or vinyl siding?
Yes, we utilize a professional spraying method so it looks brand new when we are done.
---
Where can I recycle old paint?
Latex paint is not hazardous waste and can be safely thrown away with your regular trash once it is solid. You may also be able to donate latex paint to Matthew 25 Ministries or the ReUse Center. For oil-based paint, lead-based paint, and other hazardous waste, visit Hamilton County Recycling.
---
Will you comply with Loveland's Property Maintenance Code?
Certainly. The city's maintenance code references peeling or flaking paint and holes/breaks on the exterior. We are meticulous in resolving these types of issues during the repair and preparation process - before we begin painting. Most homes in Loveland are aged 1970 - 1999 and are probably ready for structural attention during a painting project - inside or out. Of course, we can help you with any aged home, whether to restore an older one (per Loveland Historic Preservation Guidelines) if needed, or to transform a newer home to match your vision.
---
How do the painters prepare surfaces and the work area prior to house painting?
Browse our detailed, 20-step checklist that describes our process from start to finish.

Interior Painting Checklist

Exterior Painting Checklist

Cabinet Refinishing Checklist
---
Why Choose 365 Renovations as Painters for My Loveland Home?
We eliminate the hassles of doing-it-yourself and guarantee lasting professional results. Many times the difference between acceptable and exceptional is found in the details. You can rely on our relentless commitment to customer service and satisfaction.
More reasons to put your trust in our painting company includes:
Peace of mind with Liability Insurance, Workers Compensation, and backgrounds checks on all our painters and craftspeople. If an accident happens, we've got you covered.
We provide a 1-year warranty on cabinet refinishing and a 2-year warranty on all exterior and interior painting.
Environmentally-friendly products and processes.
An experienced Crew Chief is on the job throughout your project. Owner, Jim Dorff, is there at the start of the job and does the final walk-through with you.
We clean up every day, and do a thorough cleanup and haul away upon completion.
We're not done until you say we're done.
Thank you for all of your hard work on our kitchen renovation. The cabinet painting looks great. You would never guess the cabinets were once dark brown. My favorite part is absolutely the trim work on the island. A+ on the finished product!

- Michelle
Helpful Links:
Customer Reviews
Parks and Trails
Local News
We value your business and want to earn your referrals! Get a free detailed estimate for Loveland painters services today.