PAGE TITLE SECTION - PART 2
Give Your Maineville, OH House Charm And Style
365 Renovations professional painters are pleased to offer exterior painting, interior painting, cabinet refinishing, and value-packed kitchen makeovers in your lovely Maineville home.
Give your home a structural checkup, fresh paint (color matching available), or a whole new paint color scheme. Count on our painters and craftspeople to deliver superior results at affordable pricing.
We serve all homeowners in the Village of Maineville, in zip code 45039, including the neighborhoods of Murdock/Cozaddale, Village Center, and Kings Mills.
Why Choose Maineville Painters of 365 Renovations?
Peace of mind with Liability Insurance, Workers Compensation, and background checks on all our painters and craftspeople. If an accident happens, we've got you covered.
We provide a 1-year warranty on cabinet refinishing and a 2-year warranty on all exterior and interior painting.
Thorough preparation and repair of the exterior siding as well as interior walls, ceilings, and cabinets.
Environmentally-friendly products and processes.
An experienced Crew Chief is on the job throughout your project. The owner, Jim Dorff, is there at the start of the project and does the final walk-through with you.
We clean up every day, and do a thorough cleanup and haul away upon completion.
We're not done until you say we're done.
Besides having great ideas and workmanship, they are wonderful to work with.
- Catherine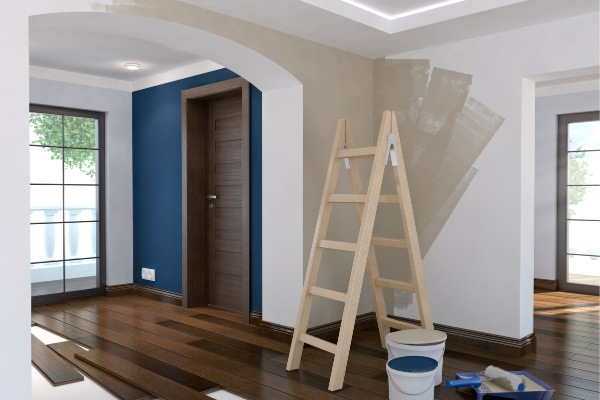 Transforming the Exterior Of Your Maineville, OH House Or Condo
365 Renovations painters are the experts in painting all forms of siding, including wood, stucco, vinyl, and aluminum. In addition to improving curb appeal, and addressing maintenance such as siding repair and wood rot, exterior painting extends the durability of your home with a protective coating.
When choosing a paint color scheme, consider a look traditionally associated with your house's architectural style. The City of Cincinnati put out an excellent guide on the local architectural building period. Discover which colors are associated with your house style, take note of exterior color trends you like in the Maineville area, then choose hues or shades from their modern counterparts.
Changing the Look and Feel of Your Interior
Interior painting pays off in several ways - beyond adding color and value to your home. The walls and ceilings may have become damaged with dents, dings, chips, cracks, stains, marks, and holes. Besides, they get dirty, harboring grime, dust, and allergens that reduce air quality. A professional paint product and application also helps seal out moisture from the outside.
Giving Your Kitchen That 'Wow' Factor
As a central room in your home, the atmosphere you create in the kitchen is especially important. If it's looking drab, worn, or outdated, you'll probably feel that way too when you spend time cooking, eating, and socializing. Cabinet refinishing (paint or stain) in Maineville kitchens is a cost-effective and utterly transformational solution.
Cost doesn't have to be a timid factor to remodeling either. Our kitchen makeover service saves you thousands of dollars. Paint the kitchen walls and cabinets, add new soft-close hardware if you like, plus countertops and a new backsplash - hooray! A whole new kitchen for a fraction of the price.
Browse our Kitchen Remodel Makeover Gallery.
We had the pleasure of meeting Jim Dorff of 365 Renovations at the Sharonville Convention Center during the home show. We had recently purchased a condo and knew we wanted to have our kitchen cabinets painted. After speaking to a couple of other companies, we knew that 365 Renovations would be our choice.

Both Jim and his administrative asst. Susan, were very easy to work with. Their processes are very streamlined, efficient and professional. The crews are top notch and do an excellent job. In addition to having our kitchen remodeled they also painted the interior of our condo. We are very picky and they far exceeded our expectations. Our cabinets look amazing. We went from a wood finish to white and they look like they were new from the factory! We had a slight issue with the countertop by the fabricator and it was rectified within a day & a half so our backsplash installation was able to proceed on time.

Our job was 80% completed when the corona virus struck, but Jim and his crew were able to take the necessary precautions and still finish the project. We would highly recommend 365 Renovations.

- Pam
Helpful Links:
Customer Reviews
Warren County Paint Recycling
Get a free detailed estimate for Maineville painters services today.