PAGE TITLE SECTION - PART 2
Professional Interior and Exterior House Painters for Mason Homeowners
Mason's housing history dates back to 1803. And so every house in your charming town has its own particular painting needs based on the decade it was built as well as the materials from which it was constructed.
Weather extremes in Mason also have a strong bearing on proper preparation, the type of paint used, and the method of application. You want lasting durability and protection from temperatures ranging between freezing -25F in winter to a scorching 104F in summer.
365 Renovations has helped many homeowners in Mason achieve their dream look inside and outside the home. We serve all of your 45036, 45039, and 56040 zip codes, including neighborhoods such as Western Row Rd/S Mason Montgomery Rd, Route 741/U.S. Route 42, Addison Dr/Brookcrest Dr, and Socialville.
"Thank you for a beautiful new kitchen! Your crew did a wonderful job and I couldn't be more pleased. The finish looks amazing, and Zach did a meticulous job on the installation. I really love it! Thanks!"

-Traci - Mason, OH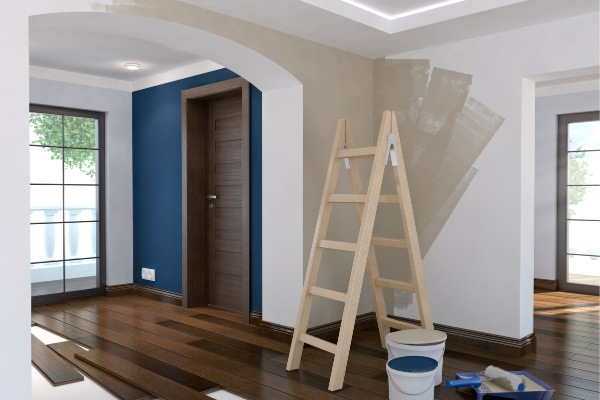 Mason House Painters FAQs
As trusted local painters, we get asked a lot of questions regarding house painting. Below, we've compiled a list of some of the most commonly asked questions we hear from our painting customers in Mason.
At what temperatures can you paint the outside or inside of my home?
Exterior temperatures must be at or above 45 degrees on a regular basis to keep the underlying press paint from freezing. We like to keep your home around 70 to 72 degrees for interior painting.
---
I have rotted wood on some portions of my exterior, do I need to call in a carpentry service before you start painting?
We will do a thorough inspection when we provide your free estimate. We can provide most light carpentry work you'll probably need. If major carpentry repairs are required, we'll recommend an exterior carpentry service.
---
Why is the paint on my exterior beginning to fade or peel?
Fading or peeling exterior paint is usually an indicator that a lower quality paint was applied or it's an incorrect sheen.
---
Can you match my existing exterior color or that of a friend or neighbor?
Yes! In most cases, we can color-match using a specialized tool.
---
I'm concerned about paint fumes and odor during my interior painting project. Can anything be done about this?
We only use low-odor paints. If the weather permits, we can open a few windows to assist with airflow. None of the paints we use are harmful to humans or pets.
---
I have drywall damage/water damage. Do I need to have it repaired before you start? If the damage is reasonable and doesn't cover a large area, we can repair it. We will evaluate the damage during your estimate.
---
Where can I recycle old paint?
Latex paint is not hazardous once it is in solid form, and can be safely thrown away with your regular Mason trash collection. Warren County Solid Waste also accepts recycling of latex paint. For oil-based paint, lead-based paint, and other hazardous waste, visit Warren County's Hazardous Household Waste information page.
---
Find Out More About 365 Renovations Painters
Did you know, you don't even need to be home while we paint? You and the family can spend the day at Mason, Ohio's wonderful Kings Island Amusement Park or enjoy one of many local parks.
Peace of mind with Liability Insurance, Workers Compensation, and backgrounds checks on all our painters and craftspeople. If an accident happens, we've got you covered.
We provide a 1-year warranty on cabinet refinishing and a 2-year warranty on all exterior and interior painting.
Environmentally-friendly products and processes.
An experienced Crew Chief is on the job throughout your project. Owner, Jim Dorff, is there at the start of the job and does the final walk-through with you.
We clean up every day, and do a thorough cleanup and haul away upon completion.
We're not done until you say we're done.
"Exceptional Service and Wonderful Crew! I will highly recommend 365 Renovations to others and will call again if ever need more painting in the future."

- Kristie - Mason, OH
Helpful Links:
Customer Reviews
Exterior Painting Process
Interior Painting Process
Cabinet Painting Process
Whether you're looking to paint the interior, exterior, refinish your kitchen cabinets, or go for a cost-effective kitchen makeover at your Mason home, contact 365 Renovations to arrange an obligation-free quote.