PAGE TITLE SECTION - PART 2
Montgomery Painters Save You Time and Money with Professional Results
365 Renovations painters serve all of Montgomery, including the neighborhoods of City Center and Jones Farm. We have helped many homeowners achieve their dream look both inside and outside. Our services include interior painting, exterior painting, cabinet refinishing, and kitchen makeovers.
Settled as far back as 1796, the city of Montgomery boasts a stunning array of house styles and historic homes. Over 86% of homes here are single-family, and about half of these are 4 bedrooms or more.
When you work with us, your home will enjoy personal attention with painting that not only restores and protects the structure but also beautifies and increases resale value.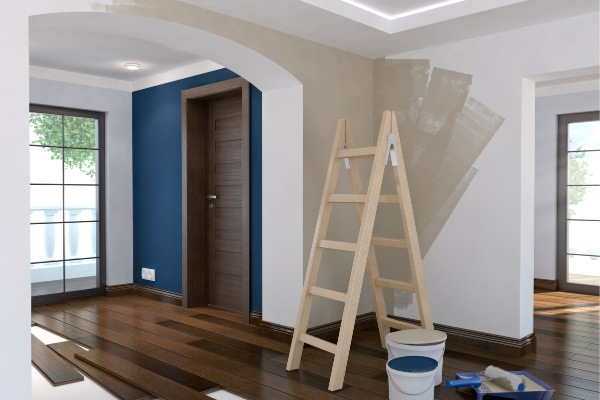 "We utilized 365 Renovations for our interior painting project. It was a much bigger project than we could take on. A large home with high vaulted ceilings, two challenging stairwells etc. The results were outstanding. From the first call to schedule the estimate to the final walk-thru, Jim and his staff were extremely professional. His office communicated throughout the process regarding pricing, paint selection and scheduling. The crew showed up exactly when they said they would and once they arrived it was obvious that they know what they are doing. The entire crew was courteous, professional and efficient. They worked very hard to get the job done in a timely many with great results. Although we found very few issues, they did not leave until everything was perfect. We can highly recommend 365 Renovations."
Rob - Google
Montgomery House Painters FAQs
How much does it cost to paint my home?
Since every home, and the specifications of the project, are different, a ballpark price range isn't useful for you. There's a lot more to consider besides the painting itself. Prep work, repair, additional carpentry work, condition and color of existing paint, types of surfaces, square footage, best product for the job, how much coverage, and more. However, knowing our project minimums may be helpful as you consider the cost of painting your home.
Interior Painting: $400 Project Minimum.
Exterior Painting: $750 Project Minimum.
Cabinet Refinishing: $2,500 Project Minimum.
---
At what temperatures can you paint the outside or inside of my home?
Exterior temperatures must be at or above 45 degrees on a regular basis to keep the underlying press paint from freezing. We like to keep your home around 70 to 72 degrees for interior painting.
---
What brands of paint do you use?
Owner, Jim Dorff, has over 30 years of experience in the coating industry. Based on this expertise and knowledge in the field, we've found Sherwin-Williams and Porter/PPG brands to be most reliable for interior and exterior projects. You benefit from our professional partnership with them due to volume discount pricing. Refinishing or painting cabinets requires a different type of product. We use special industrial wood coating paints and stains designed specifically for cabinets to provide unmatched durability. In general, selecting the right paint product is very important to us and to our customers to ensure the paint job looks great and lasts as long as possible.
---
Where can I recycle old paint?
Check with Hamilton County for paint recycling options. You can also donate latex paint to Matthew 25: Ministries' Rainbow Paint Reblending Program.
---
Why Choose 365 Renovations as Your Montgomery Painting Contractor?
When it's time to get your house painted, reasonable pricing is always a priority. Our painting estimates are very detailed, listing all items required for the project. We never have to approach a customer and ask for additional money because we did not correctly estimate the project.
More reasons to put your trust in our painting company include:
Peace of mind with Liability Insurance, Workers Compensation, and background checks on all our painters and craftspeople. If an accident happens, we've got you covered.
We provide a 1-year warranty on cabinet refinishing and a 2-year warranty on all exterior and interior painting.
Thorough preparation and repair of the exterior siding and interior walls, ceilings, and cabinets.
Environmentally friendly products and processes.
An experienced Crew Chief is on the job throughout your project. The owner, Jim Dorff, is there at the start of the project and does the final walk-through with you.
We clean up every day and do a thorough cleanup and haul away upon completion.
We're not done until you say we're done.
Thank you for a beautiful new kitchen! Your crew did a wonderful job and I couldn't be more pleased. The finish looks amazing, and Zach did a meticulous job on the installation. I really love it! Thanks!
- Traci
Related Links:
Our Service Area
Customer Reviews
Learn more about the affordable, quality house painting experience you'll receive from our Montgomery painters. Get a free detailed estimate.